AppearanceEdit
Bianca's clothes are very simple, but beautiful. She has blond hair and a braid. She has a blue dress with a gray belt tying the waist and an orange cape. This girl wears black and brown boots with blue socks. She also has silver bracelets and and a necklace. Bianca, Milly, Jessica, Sellma, Patty and Ashlynn are the only characters with their hair not loose.
Bianca and the hero were childhood friends and beat the ghosts at Uptaten to save a Great Sabrecub. 10 years later they meet again and the hero has to choose if he will marry her or Nera. When the hero is about to chose, Debora comes down the stairs and offers herself also. If Bianca is chosen, no differences will occur in the story. On the way to Gotha, Bianca faints sometimes and they discover she is pregnant. When the hero arrives Gotha, he becomes the king, because Pankraz was. At the festival, monsters kidnap Bianca, but a maid hides her two newborn children. The hero tries to save her but they are both turned into stone. The Bianca statue is later to be found by the hero and his children at the temple of Crocodilopolis, where the hero and Harry were slaves.
Towns Related to HerEdit
Dragon Quest IXEdit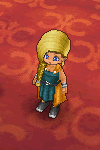 Ad blocker interference detected!
Wikia is a free-to-use site that makes money from advertising. We have a modified experience for viewers using ad blockers

Wikia is not accessible if you've made further modifications. Remove the custom ad blocker rule(s) and the page will load as expected.